Announcing the Winter 2022 Cohort of the EDGE Social Impact Catalyst powered by RBC Future Launch
---
Posted on January 10th, 2022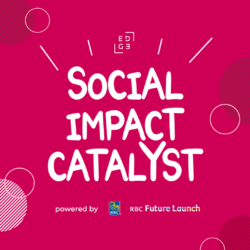 In 2021, EDGE launched the Social Impact Catalyst powered by RBC Future Launch to support the journeys of young social entrepreneurs as they work to address the world's social, economic and environmental challenges.  
Each year, a group of youth leaders is selected to join EDGE as they develop ventures within a chosen impact theme. Last year our graduates focused on taking action to support equity, inclusion and justice. EDGE is pleased to begin 2022 with a commitment to do more to accelerate climate action by nurturing 12 new ventures. 
We're backing a diverse group of youth changemakers — entrepreneurs with a range of experiences, backgrounds and ideas for new for-profits and non-profits. These youth leaders are engaging local communities as they work on high-tech and low-tech solutions. EDGE is grateful to RBC Future Launch for enabling us to support the development of impactful youth-led projects. We look forward to watching these founders grow over the coming months.  
The Beaver Stand | Ferne Kotlyar  
The Beaver Stand is an eco-hub selling sustainable and ethical products created from materials like organic cotton, recycled polyester and bamboo. From thread to clothing, their entire production line is Canada-based. The company also donates a portion of every product they ship to environmental organizations to offset the carbon emission caused by shipping.  
Respira | Mitchell Cowburn  
Developed at the intersection of art and science, Respira is an air-purifying smart garden that cares for itself. Respira captures and destroys indoor air pollutants using living plants and microbes. It produces no waste, unlike regular air filters that generate 12,000 tons of waste each year in North American, and it also improves air filtration abilities over time. 
Earth Analytics | Priya Patel   
Earth Analytics is on a mission to help urban planners design better cities using satellite remote sensing data. Harnessing high-resolution earth observation data can inform urban planning decisions. Priya has created statistical models that provide information on surface-level air pollution at a resolution far beyond anything modelled by satellites. This work helps cities understand the areas with more significant air pollution so planners can refine their zoning and development plans. Priya has already worked with two cities – Toronto and Hamilton.  
Gyallivant | Monique Pitt  
Gyallivant creates spaces for women and people of colour to access self-care opportunities while engaging with nature. With a specific focus on Caribbean and African culture, this company hosts outdoor and virtual events where women connect with nature and wellness. 
Dirty Girl | Ara Raji  
Dirtygirl is a one-stop shop for everything secondhand, upcycled and vintage.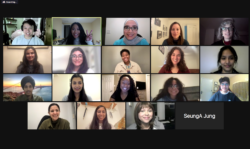 Onboarding our winter 2022 cohort.
Air Force Blacks: Living Legacies | Liz Clarke  
Air Force Blacks is a yearly event series launched in 2020 to tell socially impactful stories visually and interactively through interdisciplinary mediums and collaborative efforts. This young entrepreneur will explore eldership, grief and survival in Black and Queer communities through experiential events and workshops as we weave our living legacies with our greater communities, ancestors and nature.  
UNfabricated | Prabaarja Bedi  
Socially and environmentally sustainable e-commerce fashion brand UNfabricated reuses surplus fabric to create new fashion and home products. They create versatile and unique products handcrafted by women artisans of India. Their platform also educates customers to make more conscious shopping decisions.  
Recycling | Rajdeepkaur Jat   
Reducing waste in landfills and providing employment to people are the two main goals of Recycling. Rajdeepkaur wants to educate people about the benefits of recycling old clothes and household objects. The idea is to collect unwanted clothes and household items and recycle them using artisans.  
Joloe Mojica   
Canada is notorious for having a complex history with Indigenous peoples and communities. Through her enterprise, Joloe aims to provide better resources like healthcare, education, and safe and clean water to her community.  
Nearbuy | Seung Jung   
Tackling reuse and fast fashion, NearBuy allows users to buy and sell reusable items in excellent condition. The platform offers products at affordable prices, the convenience to buy/sell nearby and secure transactions for furniture, make-up, clothing, kitchenware, electronics and other reusable items.  
Phulkari | Inderdeep Singh   
Phulkari sells clothes made from natural materials sourced locally, therefore, reducing the carbon footprint of their consumers. The project aims to connect designers with consumers looking for sustainable clothing. Designers will also offer advice to consumers to recycle or upcycle donated clothing. 
KILB | Aryan Gautam   
Project KILB is a cryptocurrency created by Aryan's non-profit organization to donate to hundreds of organizations worldwide, aiding environmental, philanthropic, humanitarian and other significant causes. 
Because we are all connected, we cannot look at each challenge in isolation. Our program trains young entrepreneurs and innovators to move beyond market-based solutions to a paradigm that centers on our relationship with our planet and each other. 
---
The EDGE Social Impact Catalyst powered by RBC Future Launch supports youth entrepreneurs with mentorship, expertise and funding as they develop solutions to community challenges. For more information visit the program page or reach out to us at edge@sheridancollege.ca